Bonds
Bonds - Pay through your play
Available on our website and tradeable in-game, Bonds can be redeemed for your RuneScape membership, Treasure Hunter Keys, RuneCoins and more, helping you to achieve more than ever!
Trade Bonds for in-game wealth, securely Gift Membership to a friend or fellow clan member to help get them on board, or even trade your Bonds for RuneCoins, unlocking new items in Solomonís General Store. Bonds offer you the flexibility to enjoy every piece of premium RuneScape content however you want. With Bonds, the powerís in your hands, grab yours today!
Find out how to buy in-game, or pay with:
How do they work?
The life cycle of a bond consists of 3 Simple Stages; Purchase, Trade, Consume.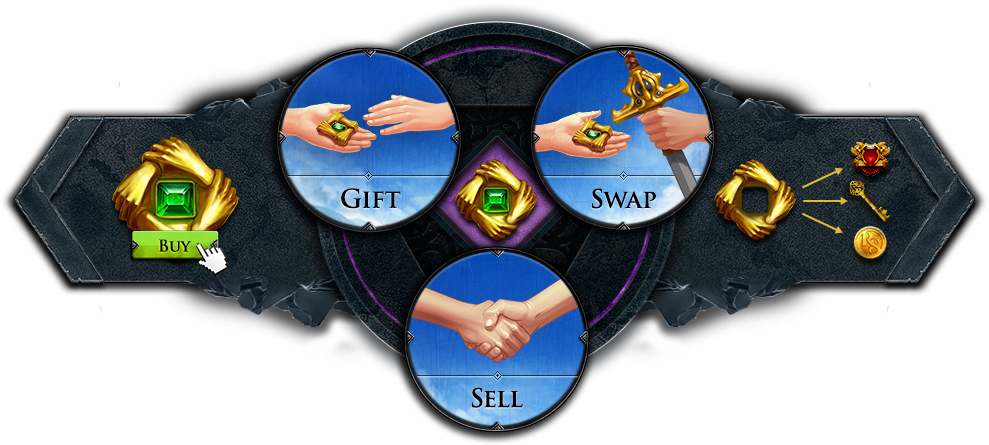 What are the benefits?
Everybody benefits from RuneScape BondsÖ except gold farmers!
RuneScape Veterans

Can use their in-game achievement to fund their membership

Hi, my name is Simon and I have been playing RuneScape for 8 years and my levels are all maxed! I have worked very hard over the years and now sit on a small fortune of resources, items and gold. Rather than keep spending my own money, I can now trade some of my game wealth for Bonds, redeem them for many months of unbroken RuneScape membership without having to spend another dollar myself!

New Players

Gives a helping hand to new players wanting to progress

Hi, my name is Sam and I have been playing RuneScape for 6 months now. I love training combat, but some better equipment and armour would really help me. I want to buy Bonds and swap them for some Ganodermic armour. I now might finally be able to join my friends on a Nex run!

Friends

The ability to gift your friends

Hi, my name is Jessica and I have been playing RuneScape for three years. My free friends would really like to play with me but they canít always afford membership and I donít like playing on the free world. Iím going to gift my friends Bonds which they can redeem for membership so we can hang out together.

Clan Members

Give a helping hand to your clan members

Hi, my name is Lisa and I have been a dedicated clan leader before you even launched citadels back in 2011! I run a clan of over 100, but many don't have regular membership which fragments our group and means some of the clan get left out. We are a tight group and very much look after each other - our clan will work together using the new Bond system to help our clan members who cannot afford membership. Our clan is going to be the best in the world!

The Game Economy

Can be stabilised

Hi, my name is Kevin and Iím a long time member. Iím happy with how I currently pay for RuneScape membership and I probably wonít use Bonds. However, I see the improvements this will make to the game economy, such as cutting out the rampant inflation caused by gold farmers injecting billions of GP into the game daily. I welcome the gold sink the bonds system introduces and the protection it provides against merchanting.

Protects Players

From real world fraud

Hi, I am Katie and Iím embarrassed to admit it but I bought gold from a gold farming site. The website re-used my parentís credit card details and racked up thousands of dollars in fraudulent online purchases. They contacted the police but were told there was nothing they could do to help as the website is based in China. The bloody website is still running! If Bonds had existed a few months ago I would never have have tried anything like this.

Protects Players

Prevent hijacking and DDoS attacks

Hi, I am Tom and I searched the web for ways to make gold. I downloaded Powerbot and it installed a malware on my computer. My RuneScape account, Facebook, Twitter and email were all hacked and my bank account has been completely wiped out.

While Gold Farmers

Get hit where it hurts!

Hi, I am a8jk13tjkp and I am a corrupt Gold Farmer. Iíve scammed, hijacked, DDoSed and defrauded millions of RuneScape players over the years. Now that players can trade Bonds with each other in exchange for any in game resources, my business is completely screwed!