Warning!
The Wilderness is a dangerous area filled with monsters up to level 305. Below ground, you might even encounter the Corporeal Beast, with a combat level of 785! Much of the area is multicombat and almost every creature is aggressive - prepare before you enter. There are a number of restrictions on teleporting out of the Wilderness, so please take careful note of where you are in case you need to make a hasty getaway. For a quick escape, bring a one-click teleport item with you (such as an ectophial or teleportation tablet).
The Wilderness is the biggest casualty of the God Wars. The land used to be green and full of life centuries ago, but now it's a desolate wasteland, scarred by the incredible power of the gods long ago, never to recover…
In modern-day Gielinor, The Wilderness is roamed by criminals, warriors, adventurers and aggressive, violent monsters who slay each other on the lawless battlefield known as the Wilderness.
The Wilderness is an enormous area, and a testament to the destructive power of the God Wars. It's twice the size of mighty Misthalin and sprawls across the northern region of Gielinor. It's bordered by Misthalin, Asgarnia and the high, snowy peaks of the troll-ridden regions.
The fearless usually cross into the Wilderness from the relative safety of Edgeville or Varrock. Passage can also be found from several other locations (such as the teleport lever in East Ardougne) or by using spells from the Ancient Magicks or Lunar spellbooks.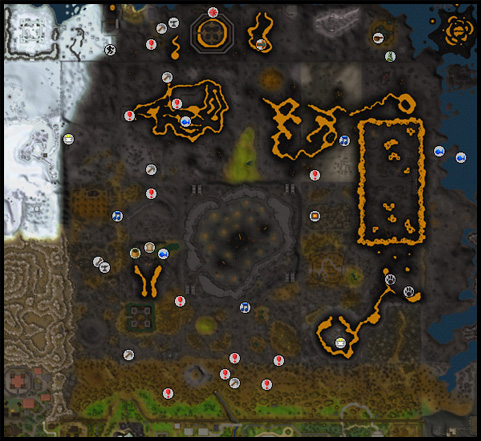 Though carnage reigns in the Wilderness, adventurers are always tempted there because of the amazing rewards on offer. The spoils of victory for winning a battle can be well worth the risk, and warriors can carve their name into legend if they spend enough of their time there.
Runite rocks are scattered around the Wilderness, and runes can be found littering the ground, while powerful monsters carry around a great amount of loot with them.
The most powerful beasts in Gielinor wander the Wilderness and the caverns beneath the barren land. The King Black Dragon hoards his wealth below the Lava Maze, and, within the deepest regions of the Wilderness, the Chaos Elemental distorts nature and space to carve out his own domain. Also, revenants haunt the Forinthry Dungeon beneath the surface of the Wilderness.
The Mage of Zamorak wanders close to Edgeville, helping runecrafters who have helped him by teleporting them to the Abyss.
Members of RuneScape can venture even further and enter the Deep Wilderness, which holds even greater challenges for the most obsessive of warriors. Members will be able to access and explore Kolodion's Mage Arena, the Wilderness Agility course, Ice Plateau and clusters of monsters, pirates, rogues and more.
Daemonheim, like a boil on the barren land, lies east of the Wilderness, and is an area said to drive men insane. Adventurers that take on the challenge can train their Dungeoneering skill here.