Welcome to
Solomon's General Store
Solomon's General Store


Solomon's General Store is a store filled with - amongst other things - outfits, animations and titles which are more than enough to make your character stand out from the crowd and look unique.
Solomon's General Store allows you to:
View & buy a range of new wardrobe outfits and accessories.
View & buy a range of new animations and emotes.
View & buy other items such as titles.
Purchase RuneCoins, the currency of the Solomon's General Store.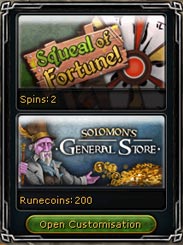 Accessing the Store
Accessing the Store


The Store can be accessed from the Extras stone interface button or from the customisation interface. To open the Store from the stone button simply click on the extras icon on your main interface then click on the "Solomon's General Store" button.
From the Customisation interface you can access the Store by clicking on the Open Store button that appears when you're previewing items you do not currently own.

RuneCoins
RuneCoins


Items in Solomon's General Store are purchased with RuneCoins. RuneCoins are a virtual currency that can be purchased from the RuneScape billing site. Click on the Buy RuneCoins button in the upper right hand corner of the Store to see all of the RuneCoin packages available.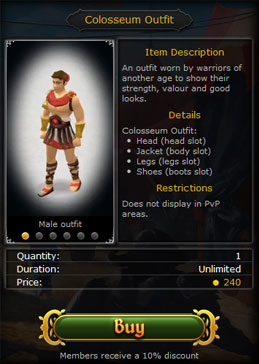 Item Details
Item Details


Clicking on an item in the Store will highlight its detailed information including an image gallery, description, item details and usage restrictions.
Buttons in the image gallery allow you to browse a variety of in-game and illustration images of each item.
At the bottom of the panel you'll see the quantity of the item received as well as the duration of its use and item price. The Buy button at the bottom of the panel allows you to purchase your currently selected item.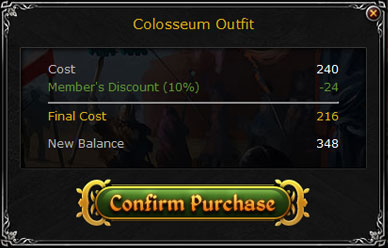 Purchasing an item
Purchasing an item


Purchasing an item from the Store is done by selecting an item from one of the Store categories and clicking on the Buy button in the item detail panel.
If you try to purchase an item without enough RuneCoins the help display will show you exactly how many RuneCoins you need to complete your purchase, making it easy to pick the RuneCoin package that's right for you!
Before you complete your purchase you'll have to confirm that you're happy with your selection. You'll have a chance to review the final RuneCoin price, see any discounts applied to your purchase and see your new RuneCoin balance – Don't forget, members get a 10% discount on all items!
Free Items Monthly!
Free Items Monthly!


Solomon, the generous genie that he is, has gifts for everyone! Players get a free item every month, so watch out for announcements on the RuneScape website.

Back in Game
Back in Game


After you complete your purchase click the close button in the upper right hand corner of the Store to return to RuneScape. You will receive a chat message reminding you of your new purchases and a flashing indicator will highlight icons with unlocked content.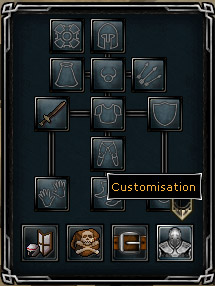 Customisation interface
Customisation interface


The Customisation interface is located on the equipment panel and allows you to set custom appearances, titles and animations.
The new Customisation System allows you to:

Choose your avatar's appearance while keeping the stats and benefits of regular worn equipment.
Change your avatar's appearance at any time without needing to retrieve outfit items from the bank.
Change the colour of a whole outfit or the individual pieces.
Choose which existing animations you want to override with new ones.
View which titles you've unlocked, and manage which title is displayed.
Preview Store items you've not yet purchased on your avatar.
Save outfit presets so you can switch instantly back to a favourite customisation loadout.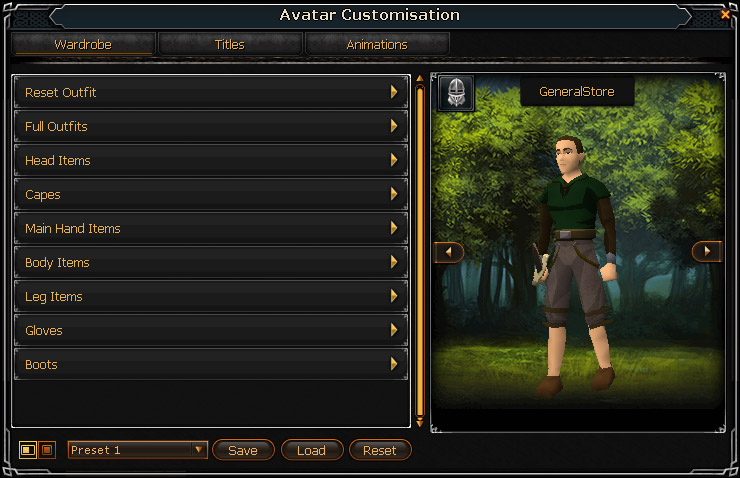 Wardrobe
Wardrobe appearances in the Customisation interface are not physical items and do not take up space in your inventory or bank. They can be worn over your equipped gear, allowing you to customise and recolour your appearance without sacrificing your combat or skilling effectiveness. Select an outfit from the Full Outfits drop-down menu or select individual pieces from their respective menus. You can Reset your entire outfit or individual pieces from the Reset Outfit menu. Using the recolour button you can customise your outfit to your liking. Once your finished use the Activate button to finalize your selection.
Titles
Players can now manage any of their purchased or earned in-game titles through the Customisation interface. Here you can activate, reset and preview all of the titles RuneScape has to offer all in one place!
Animations
In the animations tab you can override base RuneScape animations with new and unique animations from Solomon's General Store. In the Animations tab, Activate an animation override and you will see the new animation the next time you use the skill, spell or Home Teleport.
Character Preview
The character preview window allows you to mix and match your currently owned outfits, and even try on un-owned items from Solomon's General Store! You can rotate your character, zoom in with mouse scroll wheel or get a closer look at your noggin with the toggle chathead mode button. Note: Outfits are not activated on your character until you click the 'Activate' button located in the Character Preview panel.
Presets
At the bottom of the Customisation interface you can save up to three Preset outfits, allowing you to have a different look for every occasion.
Filters
Also located at the bottom of the Customisation interface are display filters that allow you to display all avatar customisation appearances and titles or only owned avatar customisation appearances and titles (default: display all).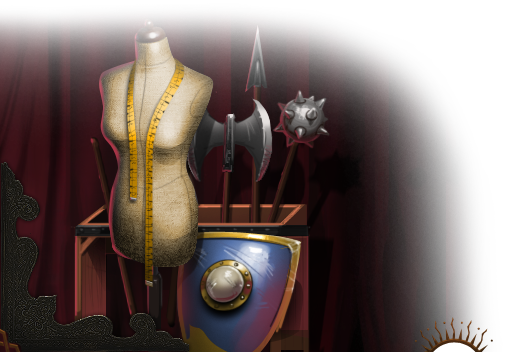 Looking for More?
Looking for More?


If you're looking for more detailed information about Solomon's General Store or the items you can purchase, don't forget to check out Solomon's General Store on the RuneScape Wiki.