Warning!
Edgeville isn't your average dungeon. It contains a massive number of monsters with combat levels going all the way up to 172. The northern part of the dungeon is also classed as the Wilderness, which means other players can attack you and you could potentially lose all your items.
Although Edgeville is a popular resort for travellers, and an area to stock up before venturing into the Wilderness, the dungeon beneath it is renowned as one of the most fearsome in the whole of Gielinor. The monsters are capable of slaying even the hardiest adventurer, and they won't think twice about attacking you if you're unprepared.
Stronger monsters inhabit the northern areas and pose the toughest tests to adventurers, with other players free to attack you whenever they wish. If you want a real taste of the dangers Gielinor has to offer, the northern part of Edgeville Dungeon will chew you up and spit you out.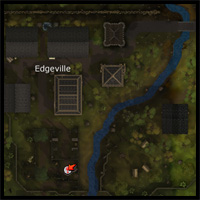 Edgeville Dungeon is underneath the town of Edgeville, just south of The Wilderness and west of Varrock.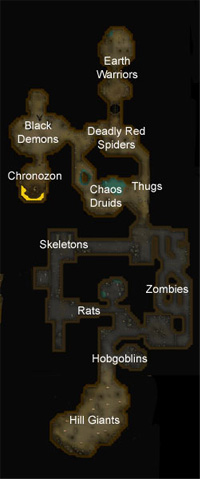 The dungeon itself is split into two areas. The southern part of Edgeville Dungeon is for both members and non-members, while the northern area is available for members only and is classed as part of the Wilderness. The members-only area will leave you susceptible to PKers, so beware…
Members can enter this northern area to find a plentiful supply of chaos druids for herbs, or skeletons and black demons for a tougher battle.
Over the agility monkey bars are earth warriors, a good enemy for you to train your melee skills against.
Near the Edgeville entrance is a brass key, which unlocks a door west of the Cooking Guild, and allows quicker access to the area crawling with hill giants.
Chronozon guards the Earth Obelisk used when making earth battlestaves. Opposite this, on the north side of the dungeon and past the black demons, is a ladder to the Air Obelisk, should you wish to craft air battlestaves instead.