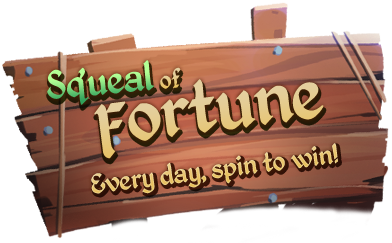 What is Squeal of Fortune?
What is Squeal of Fortune?


Roll up, roll up! Squeal of Fortune is a game of chance available to free players and members alike. With fantastic prizes on offer, everyone's a winner. And, it's quick and easy to play every day!
Simply log into the game and click the interface button that appears on-screen. Then, give Yelps a big ol' punch before collecting your prize. Each time you play, you'll see a selection of items, randomly chosen from a huge cache of loot. Winning really couldn't be easier!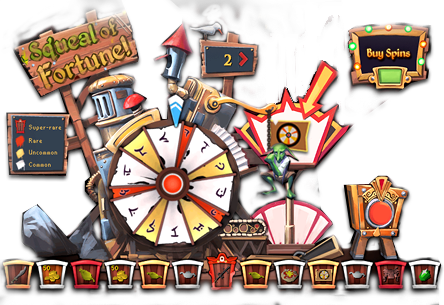 Get More Spins
Get More Spins


On top of the daily chance to win on offer, Yelps is giving you brand new ways to get extra spins. First up, Yelps is adding "win a spin" to the Squeal of Fortune. Next, spins can be earned just by playing RuneScape and finally, Yelps is introducing buyable spins. However you choose to spin, there are more spins for all!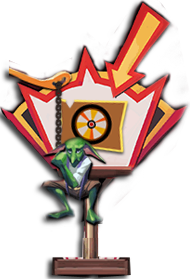 Win on the Wheel
Win on the Wheel


For the first time, you now have the chance to win spins directly from the Squeal of Fortune. So even if you don't win big on your first spin, you could get the chance to spin again right away!
Earn Spins
Earn Spins


Monster Drops

1With the exception of creatures found in minigames and Dungeoneering, all monsters that drop loot, now have spins added to their drop tables.

Skilling

2Most skilling activities now offer up a chance at getting extra spins. In fact, anything that produces a 'strange rock' could see you looting Yelps' treasure trove.


Weekly D&D's

3The Circus, Penguin Hunting, Evil Tree and Shooting Star D&Ds will take it in turns to offer up a guaranteed extra spin every week. To find which D&D is offering up spins, just check the Squeal of Fortune reward screen.

Monthly D&D's

4The Troll Invasion will provide you with another guaranteed extra spin - and all you need to do is start the event!

Questing

5Completing a quest will earn you two extra spins. With all the amazing quests in-game what are you waiting for?

Buy Spins

Buy Spins

If all this winning and earning sounds like too much hard work - you can now purchase extra spins. Just click "Buy Spins" on the Squeal of Fortune to get in on the action.

More Info