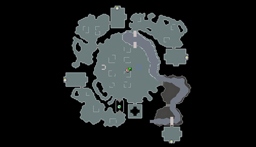 God Wars Dungeon: K'ril Tsutsaroth
K 'ril Tsutsaroth was once dismissed as a myth, a scare story that became exaggerated over time. The truth is far more frightening: the demonic monstrosity K'ril Tsutsaroth indeed lives, and has been awakened thanks to the thawing of the ice about the troll lands.
He is a commander of the Zamorak armies, and has used his supernatural strength in the past to level cities and slay thousands of innocents. Only those who have proved themselves by slaying 40 Zamorakians can face K'ril in the God Wars Dungeon, where he will show off his immense power first-hand. As well as his proficiency in melee combat, he can also use magic attacks alongside a formidable special attack that can bypass even the most accomplished protection prayers.
K'ril Tsutsaroth puts all of his skill and strength into his attacks, which makes his defense relatively weak in comparison. K'ril Tsutsaroth can potentially drop the Zamorak hilt for the Godsword if you are lucky enough, and he will count towards your Slayer target if you are required to defeat demons. He's considered to be one the most fearsome demons to have stalked RuneScape, so prepare well if you are to fight him, and avoid his crushing melee attacks.

Zamorak hilt

Zamorak spear

Garb of Subjugation

Gown of Subjugation

Ward of Subjugation

Hood of Subjugation

Boots of Subjugation

Gloves of Subjugation

Steam Battlestaff