Draynor Village is the quintessentially charming village town, with small lamps illuminating the sides of the road, wonderful gardens and a marketplace. But something isn't right. You may not be able to put a finger on what it is. The people are odd; eccentric at best. They seem to be permanently on the edge, jittery and worried about what may happen to them…
Their collective fear is rooted in what happens north in Draynor Manor. People who have gotten too close to the grounds have often come back with puncture wounds in their necks, looking sickly and pale, or not come back at all.
Draynor Manor's shadow looms over Draynor Village, spreading paranoia and fear throughout the village's population. Word has it that the manor has haunted rooms, filled with ghosts and spectres looking to cause visitors harm. Furniture moves of its own free will, trees in the grounds of the manor lash out at passers-by as though possessed. Surely it's a trick of the eye or the work of the mad scientist conducting godless experiments on the top floor.
Draynor lies between the capitals of Asgarnia and Misthalin; Falador is north-west of the village and Varrock to the north-east. Because of this, traffic through the town can be quite busy.
Immediately west of Draynor Village is Port Sarim, home of pirates and sailors, while east lies the peaceful town of Lumbridge.
Those travelling north from Draynor Manor will arrive at the Barbarian Village and Edgeville, a popular gathering point for forays into the Wilderness.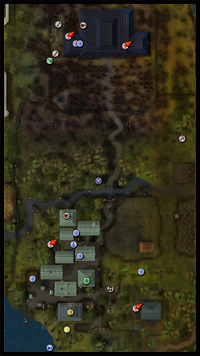 If you are in search of some of the most famous mages in RuneScape, walking a short way south from Draynor Village will lead you to the long bridge across the sea to the Wizards' Tower.
There are a number of farms in the area and some nice forests for chopping down trees. There are also a few farming patches for members scattered about, including one in the shadows behind Draynor Manor - solely for the purpose of growing nightshade.
Diango, the legendary toyseller, offers possibly the most desirable merchandise in the whole of RuneScape: horses and dragon plates. Joining him in the market is a town crier, who is more than happy to explain the Rules of Conduct and the role of Player Moderators.
To the east of the town, quite heavily guarded, is a jail looked over by a watchtower. Lady Keli, the jail's owner, specialises in less-than-legal imprisonments, so her cells are occasionally occupied by the nobility, whose families she intends to ransom them back to.