Combat Beta
Come and give Legacy Mode a go in our open beta!
Legacy Mode gives you a way to play the modern version of RuneScape with a nostalgic, traditional look and feel, without having to learn a new combat system. It's a completely optional mode that you can easily switch on or off, allowing you to choose if and when you want to give it a go.
Check out our Legacy Mode Beta video to find out everything you need to know, then try it for yourself by clicking below to join a Legacy Beta server.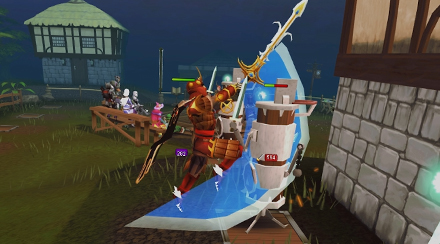 What's new?
We've made more updates to the Legacy Beta, based on your feedback; it now includes:
The traditional RuneScape combat, with no abilities
Interfaces from the pre-RS3 era – both fixed and resizable
Old-style minimap icons
Life points back to a max of 990
There's a lot of smaller tweaks too, and we're introducing some changes to combat that'll improve things for everyone, especially in PvP:
Reinstated '138' combat formula, tweaked to give melee, ranged, and magic equal contribution
Special attacks on weapons that had them previously – plus a few new ones!
Critical hit chance will be replaced by strength bonuses which give higher max hits
Balancing changes: more of your life points will come from stats than armour, penalties and bonuses across the combat triangle will be slightly relaxed, and damage from abilities has been tweaked to even out any imbalances.
Have Your Say
Your feedback is incredibly important to us and that's why we want to hear your feedback. We'll be running a poll to determine what should be added to the live game and that's open to free players and members alike – as long as your account is at least three months old you'll be eligible to have your say.
Even if Legacy isn't for you there's plenty of new content to try out: special attacks, the combat formula, and balancing refinements, so make sure you give the beta a go.
Head to the forums to let us know what you think.